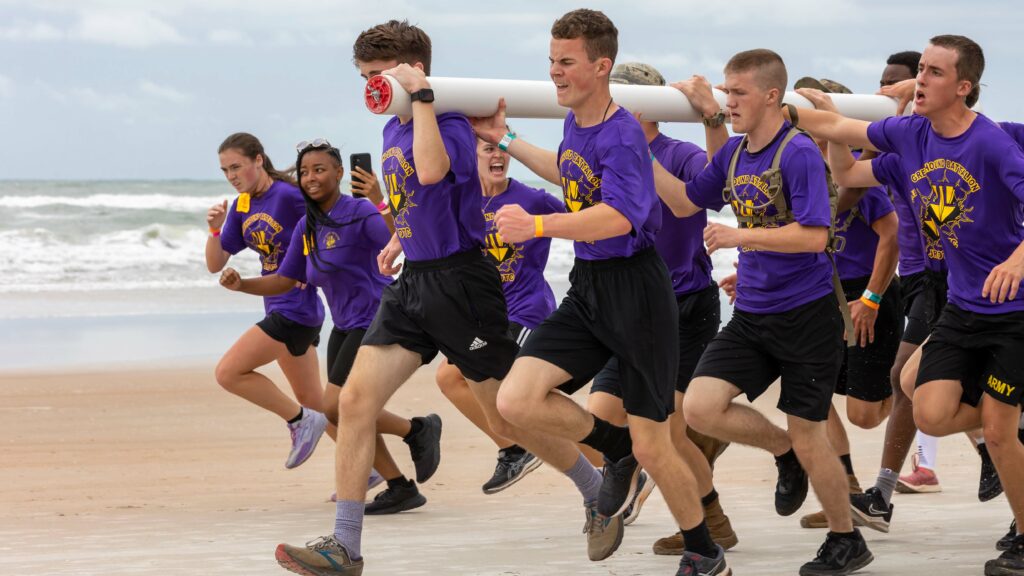 Photo by:
 U.S. Army/Kyle Crawford
Participation in Army Junior ROTC is linked to positive education and career outcomes, according to a report from the Rand Corp. 
The study, which analyzed the educational and career outcomes of Army Junior ROTC cadets in Hawaii and Texas compared with peers at non-JROTC schools with similar enrollment and demographics, found that cadets who participated in all four years of the program are more likely to graduate, have higher rates of attendance and lower rates of suspension.
Though the report also found that students who participate in Army Junior ROTC are less likely to go to college than their non-JROTC peers, "there is reason to believe this is because of [Army Junior ROTC] students choosing to enlist in the military, particularly those students who participated throughout high school."  
Cadets who do enroll in college appear to be equally likely to persist to a second year compared to noncadets, the report says.
Once they are in the Army, former cadets, especially those who participate in Junior ROTC for three or more years, are more likely than their fellow enlisted peers to complete their first contract, according to Rand. 
"Among enlisted soldiers who start in the active component in our sample, more than 23 percent do not complete their first contracted term," the report says. "… Former cadets are less likely to leave service before the end of their first term. … Cadets who start in the active component are, on average, 3 percentage points (about 13 percent) less likely to attrit." 
Former cadets are also more likely to have longer careers than their peers, the study found. While the average career length of soldiers in the study's sample was 5 1/2 years in the active component, the study found "strong evidence that former cadets serve longer." 
"Former cadets are 7.3 percentage points more likely than non-JROTC cadets to serve at least 6 years and 4.2 percentage points more likely to serve at least 15 years," the report found. 
The study by Rand was conducted to learn more about the Junior ROTC program, the report says. "Despite JROTC's longevity, the scope of its reach, and the size of its budget, little is known about the associations between JROTC participation and outcomes of importance to the country and the military," the report says.  
The Junior ROTC program serves over a half million students each year in more than 3,400 high schools, according to data in the report. The program was established in the National Defense Act of 1916 as a citizenship and leadership program. 
Moving forward, the report suggests investing in increased data collection on Junior ROTC outcomes, among several other recommendations. 
"We recommend reviewing data collection to ensure that all intended outcomes of the JROTC program are measured and that the measurement of those outcomes is formalized in doctrine," it says. "If [Army Junior ROTC] is intended to improve in-school outcomes for participants, this needs to be made explicit in policy and regulations." 
The report is available here.